I am looking for a mentor…
Encouragement and support from someone experienced can make a huge difference to anyone's life. Whether you want to move into work,  overcome difficulties or just get more out of life, our mentors have the experience and training to support you to set and achieve your goals.
With help from the volunteers of the R.A.I.S.E Mentoring & Befriending scheme you will feel reassured that you are not on your own and have help in accessing the right support and  information for your particular concerns or goals.
You'll also build your confidence and independence, explore your potential and achieve your dreams.
Your mentor
We'll listen to your needs and match you with a mentor with the right experience and interests to support you to meet your goals. It'll be someone you feel you can get on with.
With 25 years  experience of supporting people, we know how important it is to carefully select experienced mentors who can relate well to you.
All our mentors have experience of disability and are fully trained.
So get in touch and tell us what do you want to do!
To register your interest and receive a call form the community support officer please complete the form below
For further information and an informal chat please contact Claire Staples on 01623 658 060
To view a copy of our information leaflet please click below: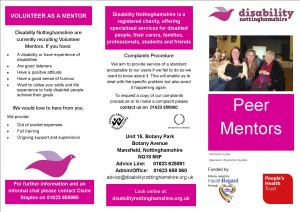 Peer mentoring leaflet (PDF, 500kb)