I would like to be a mentor…
Volunteer mentors/befrienders meet with disabled people and support them to develop their skills and interests, build their social networks and take part in their community.
What is the role about?
Volunteer mentors/befrienders support people with disabilities/carers to engage in local community activities, develop their skills and interests, build their social networks and engage in opportunities in the wider community.
Who will benefit from your Involvement
Disabled people, Disability Nottinghamshire, the local community, you.
What doVolunteer mentor / befrienders do?
Meet with disabled people in the community on an individual basis,​ to build supportive and trusting relationships.
Supporting people to establish personal goals
You'll support disabled people to make choices on things they would like to do to build their social networks and increase their involvement in the local community. You will support individuals to try out new activities and groups.  offer encouragement &  support to help boost their self-confidence.
Plan how​ to reach personal goals
You'll assist individuals to plan how they can become involved in the social activities,  and groups they have idenntified. This could include identifying transportation, finding out about local venues, opening times, group times, admission costs, accessibility and support required.
Skills needed
Good communication skills with a range of people with a friendly and approachable manner
Ability to relate to client group
Ability to enthuse and motivate people
Sense of humour
Patience
Works' well in a team
Empathy
Active listening skills
Knowledge of local area and community groups, or willingness to research.
Training & Support
Disability Nottinghamshire has a comprehensive training and induction programme that all mentors must successfully complete before undertaking any mentoring.
You will receive:
Induction to Disability Nottinghamshire including our aims and objectives
4 day training course "Introduction to Mentoring and befriending"
Safeguarding
Any other identified or relevant training where applicable.
After initial training, workshops sessions will be held to cover any specific areas identified by the volunteer mentor.
 You will have regular supervision sessions with the Community Support Worker and the reimbursement of agreeded out of pocket expensese
Commitment
The nature of the mentoring role is to develop a relationship with a mentee. So that specific skills and confidence can be developed allowing the mentee to actively engage within their communities. It is hoped that volunteer mentors can commit to the programme for 2hours a week for at least six months. The actual times of meeting will be flexible and depend on the needs of the service user and agreed by the community support worker, but it would be expected that the matched pair would meet on a weekly basis. Commitment is also expected with regards to regularly attending supervision/support sessions held be the Community support worker.
How will you benefit?
You will be making a difference to the lives of disabled people living in Mansfield
Relevant training
Learning new skills
Gaining up-to-date knowledge of issues affecting disabled people
Meeting new people in different situations
Valuable experience for your CV
Knowing you're making a real difference to disabled people
Disability Nottinghamshire is committed to safeguarding children and vulnerable adults. This volunteer role will be subject to a DBS (Disclosure and Barring Service) check and satisfactory references.
How to apply
Download and return the application form below to:
claire@disabilitynottinghamshire.org.uk
or alternatively post to:
Disability Nottinghamshire
Unit 15 Botany Park, Botany Av
Mansfield NG18 5NF
Vol Application Form (WORD PLAIN)
For further information and an informal chat please contact Claire Staples on 01623 658 060
To view a copy of our information leaflet please click below: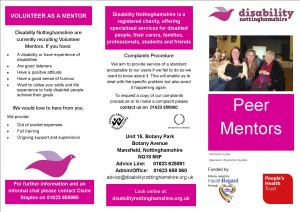 Peer mentoring leaflet (PDF, 500kb)